WE'LL CROSS THE BRIDGE WHEN WE GET TO THE RIVER
Antoine Defoort,Mathilde Maillard, Sébastien Vial, Julien Fournet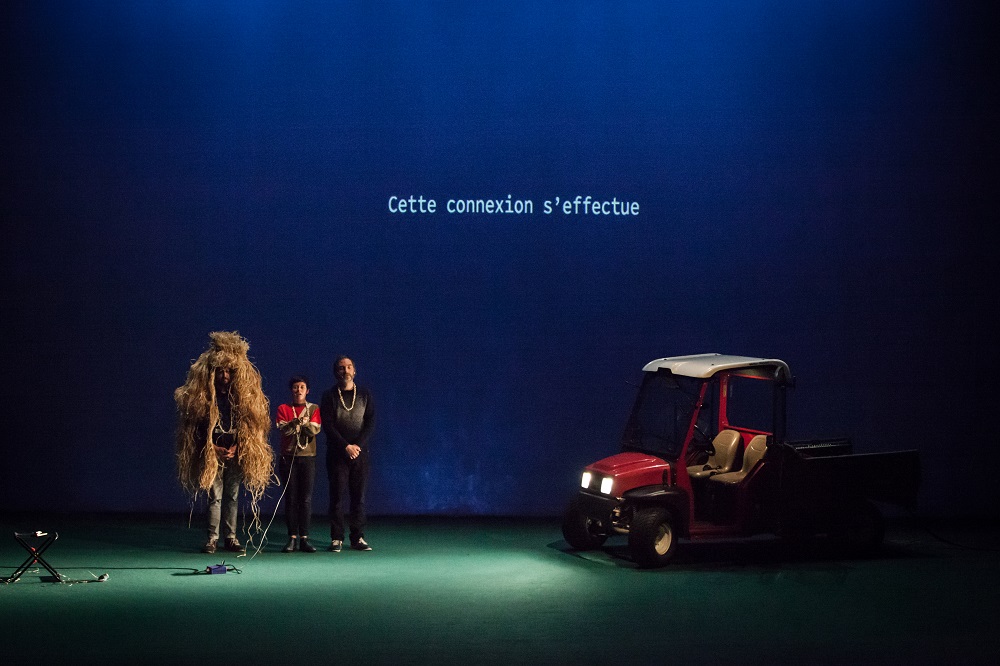 COPRODUCTIONS : Le phénix scène nationale Valenciennes pôle européen de création / Kunstenfestivaldesarts, Bruxelles / Biennale de la danse de Lyon 2018 / Le Vivat, Scène Conventionnée danse et théâtre, Armentières / Carré-Colonnes, Saint-Médard-en-Jalles / Le Centquatre, Paris / La Filature, Scène nationale, Mulhouse / La Halle aux grains – scène nationale de Blois / Künstlerhaus Mousonturm, Frankfurt / Kunstencentrum BUDA, Courtrai / MA scène nationale – Pays Montbéliard / Noorderzon/Grand Theatre Groningen / Steirischer Herbst Festival, Graz / Le Théâtre Garonne, scène européenne, Toulouse / Le Vooruit, Gand

SUPPORTED BY : Le Pianofabriek Kunstenwerkplaats, Bruxelles / Le Tripostal - Ville de Lille / avec la participation du DICRéAM / NXTSTP (Creative Europe programme).

The project received the support of the Région Hauts de France and l'Institut Français.
Fiction, Reality and Ergonomy are at work in a big empty space equipped with microphones. With the toolset of theatre, they're trying to build empathic loops, cross-fades between information fluxes and playfully-poetic experiments.
Here comes Method for an interview :

Method — So you've decided to collaborate on that project ?
Fiction — Yeah absolutely, we've been pretty much writing the whole piece together with Reality and Ergonomy.
Method — Oh I see, but isn't it somewhat unusual ?
Reality — Not that much, I mean, Fiction and I are kind of close, we're constantly exchanging ideas and stuff. What was really new for us was our collaboration with Ergonomy.
Ergonomy — Right, for me it was complete discovery, you know, I'm used to working in industrial contexts, so yeah, for sure, being involved in a theatre piece was challenging, but also a really fulfilling experience.
Method — Ah interesting indeed.
A project by Antoine Defoort, Mathilde Maillard, Sébastien Vial, Julien Fournet

Produced by l'amicale

Concept : Antoine Defoort, Mathilde Maillard, Sébastien Vial
Artistic collaboration : Julien Fournet
Performers : Arnaud Boulogne, Mathilde Maillard, Sébastien Vial
Sound designer : Lieven Dousselaere
Lighting designer : Alice Dussart / lighting operator in alternance : Rémi Vasseur
Production Manager : Emilie Godreuil
Artistic & technical Assistant : Samuel Hackwill
Web development : Etienne Boutin, Samuel Hackwill, Guillaume Libersat
Costume designer: Fabian Foort
Producer : Mathilde Maillard/ Virginie Charlet/ Marion Le Guerroué
Touring : Marine Thévenet
Thanks : Virginie Charlet, Anna Czapski, Caroline Daish, Mathilde Decaux

CONTACT : marine@amicaledeproduction.com
+33 7 86 08 96 83